Above photo: Coles Sports Therapy in Ashford used us to produce their business cards in 2018.
"Why are business cards so important? Why do I have to give them my information on paper?"
We'll tell you why, below!
Business cards have been around for hundreds of years, in many shapes and forms. The modern style has adopted vital contact information such as mobile phone numbers, email addresses, and social media information such as Facebook, Twitter, Instagram and Linkedin. 
Generally, business cards are used at business events such as B2B, conferences or exhibitions, where you meet potentially new customers who you want to sell your product to. They're also used as a reminder to existing clients that you're always contactable and you want to encourage them to continue using your services in the future.
Business cards are great as a brand recognition tool, no matter how big your company. Having your logo and even brand colours splashed across your card is one way of reminding your clients of past, present or future, that you're still there and always available when they may need you.
Simply keeping your website or social media up-to-date is fantastic, but not enough. Sometimes having that bit of paper in your wallet or on your desk is enough to remind yourself that you need to buy a particular product or phone that tradesman back, and it works the same for your customers.
As well as the reminder aspect, if you've done your job properly and to a high standard for your customer to walk away happy, then your card is there for them to pass on to new potential business in a form of word of mouth. "Hey, I had this great company do this work for me last week, they did a fantastic job and their service was outstanding. Oh wait, I've got one of their business cards in my pocket. Here, take this and give them a call!". You'd be surprised how often this happens!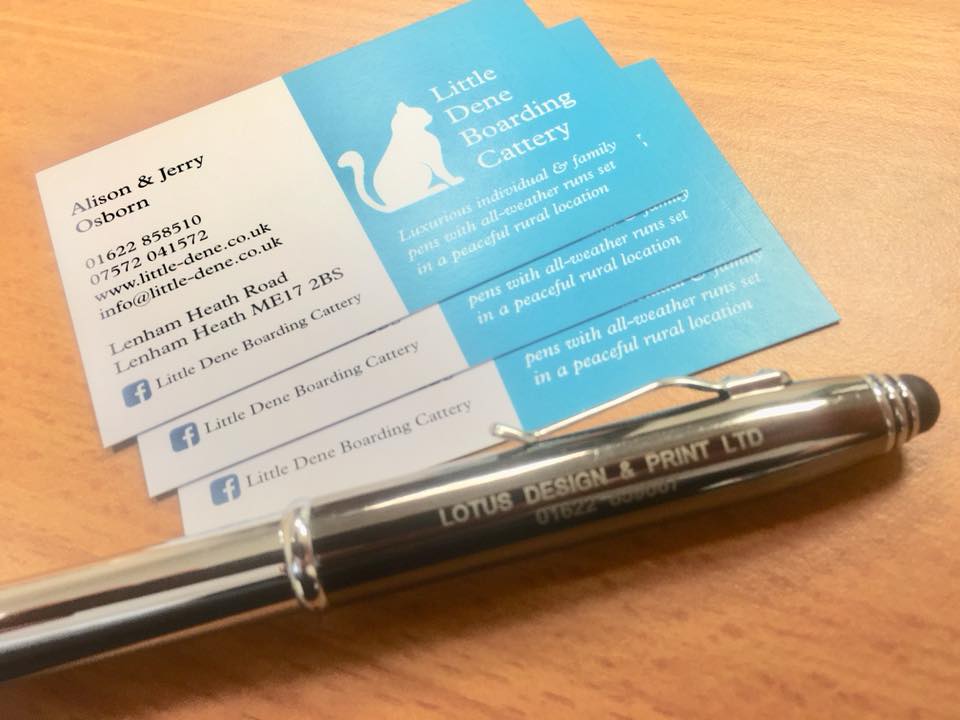 Above photo: Business cards for Little Dene Cattery in Lenham Heath, near Maidstone. Printed in 2018.
"So what information should I include on my cards?"
We believe business cards should be more simple, rather than being text heavy. Though it's all down to opinion!
Key information to include:
Logo, website, landline/mobile number, email address and postal address.
Generally business cards are personalised so including your job title and name would be ideal, and if you're big on your business social media it'd be good to advertise your pages. It's important to note, it's not always good to promote your social media pages if you don't keep them regularly updated.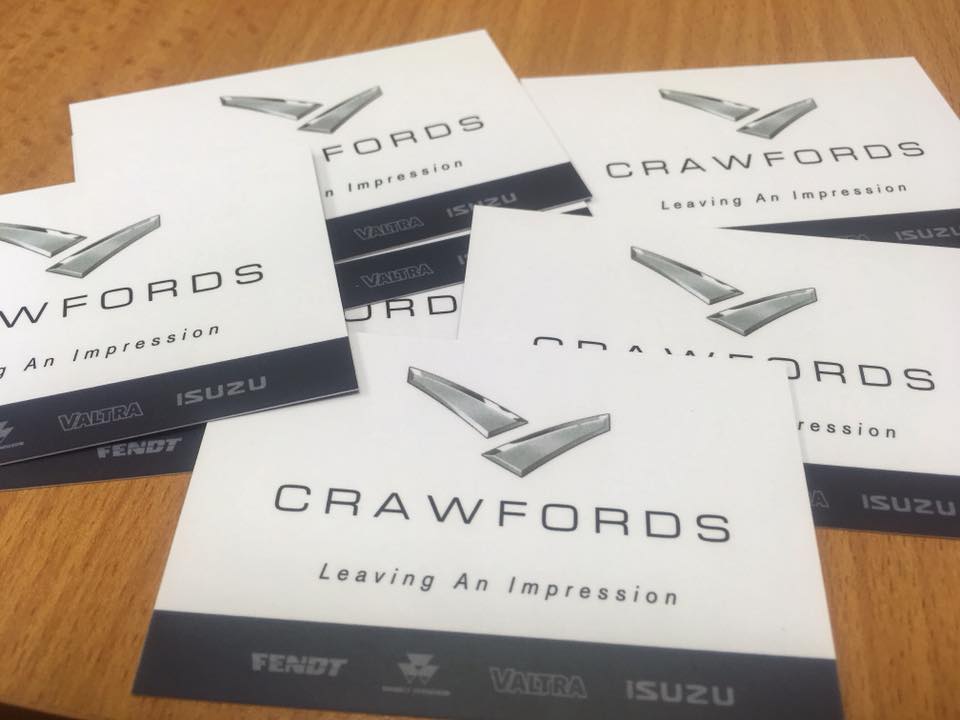 Above photo: Crawfords Agricultural (Essex & Kent), use Lotus Design & Print for their business cards!
Finally, it's down to you to make the right impression. But first, you need to make sure you get the best printer for your needs.
If you have those all important brand colours, make sure your printer knows the colours have to be exact to your specifications and that the colours aren't flat. The cards need to be trimmed accurately and you can always add lamination or round cornering for added effect.
You can only make that first impression once, make sure you get it right!
Speak to us for more details!
info@lotusdp.co.uk // 01622 859667